Last week, my 93-character tweet about Melania Trump and her marriage to President Trump "blew up the internet," as they say. At 9:15 p.m. on May 2, I re-posted a GIF of that infamous Melania smile-turned-scowl from the inauguration with the comment:
"Seems the only wall Donald Trump's built is the one between him and Melania."
Shortly thereafter it was "liked" by someone using the handle @MELANIATRUMP. It was the verified personal account belonging to the first lady. And it was only the second time she's ever "liked" a tweet, the first being her own when she opened her account May 23, 2012 with,
"Hello Twitter!"
Was I shocked? Yes. Flattered? Of course. But was it really Melania Trump who liked my tweet?
I'm convinced it was, despite a denial by Melania's spokesperson Stephanie Grisham, who
told
PEOPLE Magazine, "The first lady wasn't aware of this until I brought it to her attention." When asked who did do it if not Melania herself, she nonchalantly replied, "Who knows … it isn't her primary account these days," adding that the password to the account had been changed.
"Who knows?"
That's it!? That's the official answer over how the personal Twitter account of the first lady of the United States of America basically reinforced the popular belief that she hates her husband!?
Let's assume for a second that Grisham's correct, and that it wasn't Melania. So then it was either a hack, a really pissed off staffer or 11-year-old Barron. Call me crazy, but any one of the alternatives is incredibly newsworthy, and the public is owed the truth.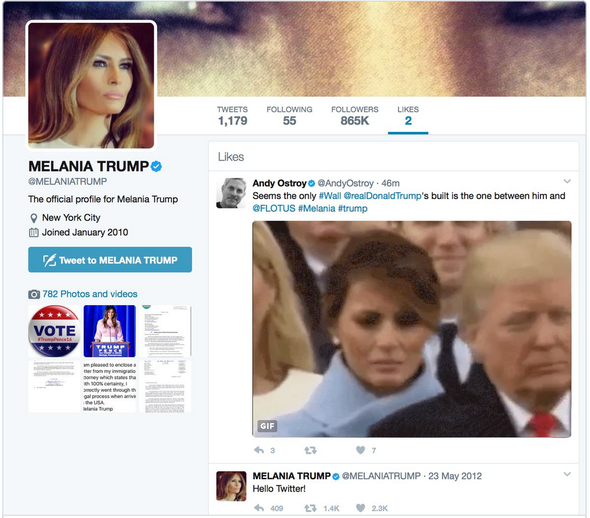 If Melania
was
hacked, who's responsible? Was it one of President Trump's dictator pals Putin, Erdogan, Duterte, el-Sisi or Kim Jong Un trying to stir up some serious marital shit between the Trumps? Was it stepdaughter Ivanka, thus fueling another popular belief that the two women hate each other? Was it someone in the "fake" liberal media? If so, shouldn't there be confirmation that it
was
in fact a hack, which would constitute a major national security concern, and that the administration is using the full power and resources of the U.S. government to find out who it was?
Or what if it was a disgruntled staffer? Someone would have to be pretty damn angry with Melania or the president to "like" a tweet suggesting their marriage was about as much a failure as Trump's Mexican wall and Muslim ban. Shouldn't we know who that hater is and his current status? Is this person still roaming the White House and/or Trump Tower, able to cause even more harm or danger to the Trumps and perhaps the nation, or has she been fired?
And what if it was actually little Barron who, on his way into the kitchen for a late-night string cheese and juice box snack, noticed mom's laptop open, saw the tweet and decided it was time for a little mischief? If so, the kid just blasted right to the top of my list of favorite Trumps.
But let's be real: none of these possibilities seem as plausible as Melania liking the tweet herself.
We're supposed to accept that someone with incredibly nefarious motivations accessed the First lady's Twitter account and made a mockery of her marriage, yet we've been provided no credible information to support that desperate assertion (remember Anthony Weiner's "hack?"). Sorry, Ms. Grisham, but
"who knows"
is not an acceptable answer.
So back to Melania. Did she and The Donald have a fight that night and in a fit of rage she thought,
"You want a wall... I'll give you a fucking wall!"
Or does the normally tight-lipped, composed first lady actually have an awesome sense of humor and thought,
"Why not? Wink, wink!"
Or, was it a really unfortunate slip of the finger that she was unaware of until Grisham shrieked,
"OMG, Melania, what the hell did you do!?"
Until we get a more logical, detailed explanation from the Trump team, my money's on Melania sending her absentee husband, and us, a message...